Letter from the Chief Executive Officer
Dear Reader,
It is an extraordinary year that we look back on in this report. A year full of contrasts: not only characterized by unspeakable humanitarian suffering and economic turmoil as a consequence of the Russian invasion of Ukraine, which has since had an impact on all regions of the world and has also had a negative effect on Lenzing as well as the entire manufacturing industry, but also by outstanding successes that certainly fill me with pride as Chairman of Lenzing's Managing Board.
Let me start with some remarks about our business performance. The increase in costs for energy and raw materials that started in the first quarter, and the slump in demand over the course of the third quarter, had a significant negative impact on Lenzing's revenue and earnings trends in the 2022 financial year. Revenue grew by 16.9 percent year-on-year to reach
EUR 2.57 billion
solely thanks to higher fiber prices, while EBITDA decreased by 33.3 percent to EUR 241.9 mn.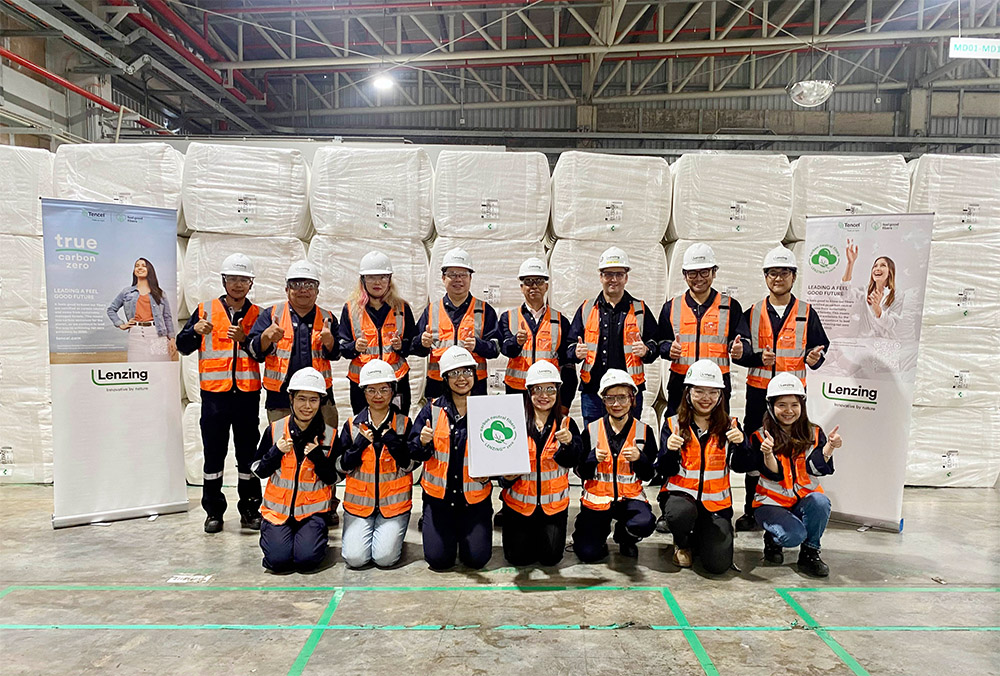 The Lenzing team in Prachinburi (Thailand) celebrating the shipment of the first carbon-zero TENCEL™ fibers from our new site, the world's largest lyocell fiber plant.
Having responded quickly and decisively to all external crises, we can be very proud of our significant milestones such as the implementation of our investment projects in Thailand and Brazil."
Stephan Sielaff
Chief Executive Officer
Lenzing's Managing Board responded to this earnings trend at an early stage and launched a reorganization and cost-cutting program, which had already made initial contributions to earnings by the end of 2022 and will reduce the cost base by EUR 70 mn per year once it has been implemented in full.
However, we will not only adjust our cost base structurally. Our goal is one of continuous development and improvement in order to emerge stronger from this crisis. As a consequence, we are scrutinizing our processes in all organizational areas and we are looking at where we can improve in order to be able to benefit very quickly from the future market recovery. This crisis is likely to be with us longer than it was at the start of the pandemic. Nevertheless, we can look ahead with great confidence, as the need for sustainable innovations in the world continues unabated and demand for environmentally responsible fibers for the textile and nonwovens industries will continue to expand.
The new pulp mill in Brazil, the largest of its kind in the world, was successfully ramped up despite the many challenges, particularly in relation to the pandemic.
We have the ambition to change the world in a positive way. This is what clearly distinguishes us from other companies and gives meaning to what we do. "Advance our world with better choices" – this is our bold purpose statement, which we developed together with our employees in 2022.
We have also further developed our strategy and, following the successful implementation of our investment projects in Thailand and Brazil, we will continue to focus on profitable growth with our specialties. We will continue to promote recycling and thereby make a valuable contribution to the transformation of the textile and apparel industry from a linear to a circular economy model. We remain a champion of sustainability – recent top scores from CDP, EcoVadis, MSCI and other respected environmental organizations and rating agencies confirm this – and we aim to, and will also become, a champion of the circular economy.
In addition to our operating targets, we have also set ourselves ambitious financial targets: we aim to grow our EBITDA to a level of
EUR 1 billion
by 2027, which presupposes a return on capital employed of over 12 percent and a normal economic environment. This is a "sound barrier" which we will be meticulously working towards in the coming years.
An essential part of our Lenzing Purpose and our corporate strategy "Better Growth" is that we are not satisfied with just reducing negative impacts. Rather, we aim to create even more positive benefits, such as by also contributing to the further improvement of diversity and gender equality within the company, as well as biodiversity. We also made further progress on climate targets by switching to renewable electricity supplies at two further plants. The introduction of social clauses in supplier contracts represents a further consistent step towards strengthening our pioneering role.
I would also like to take this opportunity to mention, in particular, the successful investment projects that we have either implemented or significantly advanced this year, starting with the opening of the world's largest lyocell plant in Thailand. The new state-of-the-art plant will enable us to better serve growing demand for environmentally responsible lyocell fibers under the TENCEL™ and VEOCEL™ brands. In the future, we will be able to supply the pulp required for the production of these fibers from our mill in Brazil, which we also successfully started up this year. Despite numerous challenges, both projects were completed on time and within budget, and we are very much on target with the volumes sold. As Lenzing employees, we have every right to be proud of this.
Moreover, we are continuing to invest in our existing production sites in order to adapt our product mix to customer needs and to further improve our environmental footprint. In China, following the imminent conversion of a production line, we are able to offer locally produced TENCEL™ modal fibers to our customers for the first time. In Indonesia, we are well on the way to retooling existing production capacities in order to be able to offer significantly better LENZING™ ECOVERO™ viscose fibers in the future.
All investment projects are also paving the way towards achieving our climate targets. We have set ourselves the goal of halving our carbon emissions by 2030 and achieving carbon neutral production by 2050. These targets were recognized by the Science Based Targets Initiative in 2019. We can already operate the two plants in Thailand and Brazil on a carbon neutral basis. In Brazil, we can even feed a considerable share of the surplus energy into the public grid.
The topic of energy has engaged us this year as seldom before, and we too, like many industrial companies, were forced to move faster along our path and make ourselves even more independent of external energy, particularly at our European sites. I am all the more pleased that we commissioned the largest photovoltaic plant in the state of Upper Austria at our headquarters in Lenzing in 2022.
On behalf of the Lenzing Managing Board, I would also like to take this opportunity to thank you, valued investors and dear customers and partners. I am aware that turbulent times like these are always associated with new and unexpected challenges. For this reason, I appreciate all the more that you trust in our strategy and in our sustainable and innovative products.
We have also further improved our award-winning reporting for the benefit of our readers, and optimized the digital solutions available. You can expect a detailed insight into the company's position as well as its activities and achievements in the area of sustainable development. With all this in mind, this year we placed a special focus on people whose commitment made a positive contribution to Lenzing's successful performance in 2022 and thereby also drove the necessary transformation of the textile and nonwovens industries from a linear to a circular economy model.
Let me emphasize once again that in turbulent times we have set the right course. I am firmly convinced that at Lenzing we are excellently positioned to meet growing demand worldwide for sustainable and consequently future-viable solutions. We will undoubtedly continue to develop into a champion of the circular economy and assume a pioneering role in this context.
Finally, I wish you enjoyable reading of our financial and non-financial reports and trust that you find them interesting and inspiring.
Yours sincerely,
Stephan Sielaff