Innovative sustainability
Innovation empowers sustainable fashion and beauty
We delivered unprecedented fiber traceability across product supply chains in 2021 with the extension of fiber identification technology to all TENCEL™ branded lyocell and modal fibers, as well as VEOCEL™ branded fibers. We then redoubled our efforts with the full rollout of digital traceability across the textile supply chain enabled by a cloud-based platform. These physical and digital identification technologies allow our fibers to be verified at any point in the supply chain, all the way to the shopfloor.
As the demand for improved transparency grows in response to the fashion industry's poor environmental reputation, we believe there is no sustainability without traceability. Brands and retailers are setting carbon reduction targets that cannot be achieved without verifying the sustainability claims of their suppliers. This calls for vastly improved fiber identification and supply chain visibility, and positions transparency as a core business priority for those who want to succeed in the industry. Tracing products across a long and complex supply chain that spans multiple countries and companies is not a trivial task.
Adding value across the value chain
"With fiber identification technology, our fibers can be identified in yarns, fabrics and finished garments," explained Florian Heubrandner, Vice President, Global Textiles Business. "This means our products are easily identified throughout the supply chain, which builds trust with our value chain partners."
Following a successful pilot with TENCEL™, TENCEL™ x REFIBRA™ and LENZING™ ECOVERO™ fibers in 2020, we extended this technology to lyocell and modal fibers in 2021. "Supply chain partners now have the certainty that the fiber they are working with really is ours and has not been tampered with en route," added Florian. "If you purchase our products, you get both Lenzing's sustainability and transparency, as well as evidence that the fibers have been produced in facilities with high sustainability credentials. This really strengthens our offering."
supply chain
partners on board
Our partnership with blockchain pioneer TextileGenesis™ is enhancing digital traceability solutions. "For every kilo of fiber that we produce and ship to a customer, we also ship a fiber coin. You could call it a digital twin," added Florian. "So, if the customer takes 100 kilos of our fiber, they will also receive 100 fiber coins via a cloud-based platform. When they make yarn out of that fiber and ship it to a weaving company, they also send the fiber coins. These coins therefore travel with the fiber to the retailer, who can digitally trace the entire product journey all the way from our production site."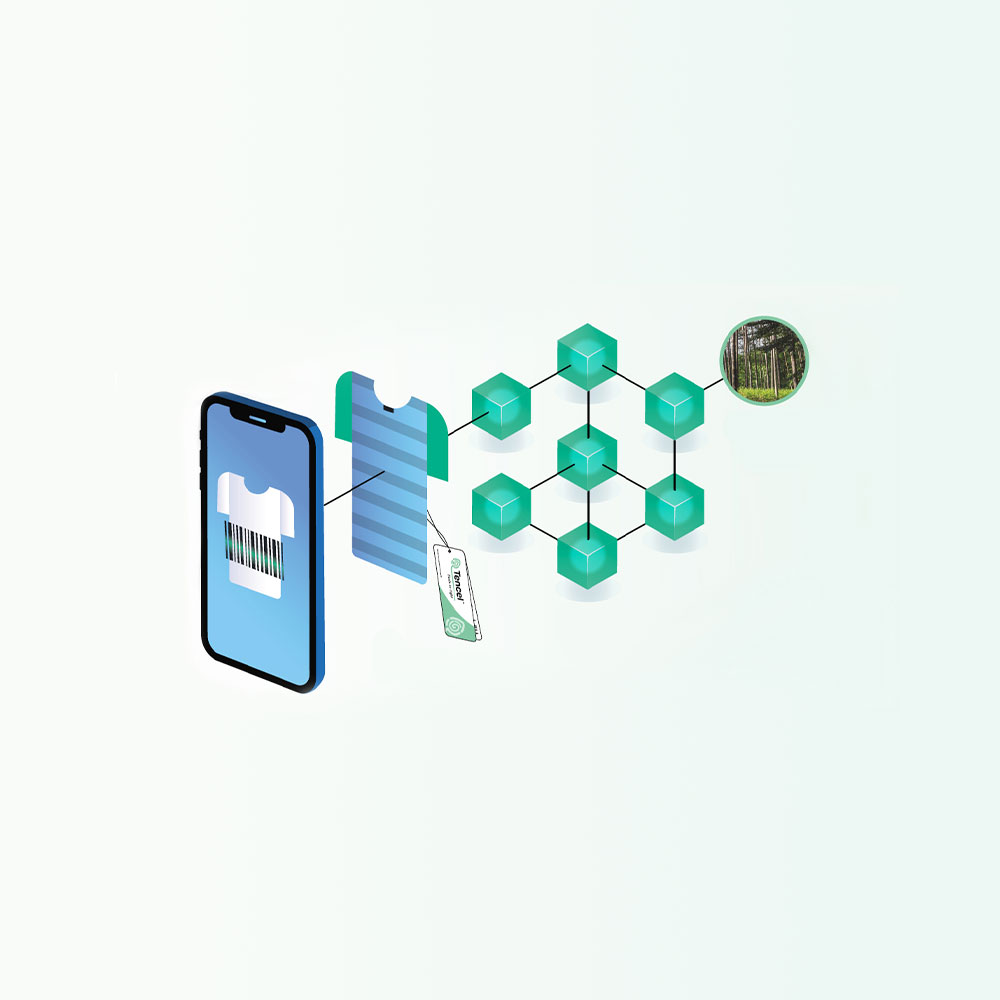 Retailers have historically not had sight of the product journey and no way of knowing if their garments have been compromised. "If retailers receive a shipment of denim jeans that claims to contain 30 percent TENCEL™ lyocell and 70 percent cotton, they finally have the fiber coins to prove that this is true, which means they have exactly the product they paid for." This confidence is carried through to the consumers at the very end of the supply chain, as they check garment labels for product ingredients.
It has taken focused effort to reach this point. We have onboarded more than 600 supply chain partners to the blockchain platform despite the continuing impact of the pandemic. "The technology could not succeed without end-to-end adoption across the supply chain," said Florian. "Our biggest challenge was making sure that all partners, from spinners to garment makers, could access the cloud-based system easily and safely. We have held webinars and training sessions online, fully supported by TextileGenesis™."
Thanks to these combined technologies, our partners can trust the integrity of the yarn they are working with; retailers and brands have proof that their garments will help them to meet sustainability targets, as well as protect their reputation; and consumers are satisfied that they are making environmentally conscious purchases. "Fiber identification has the potential to become standard technology," Florian added. "It pulls together the many different strands needed to empower the industry to achieve real sustainability."